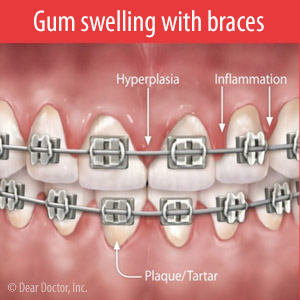 Braces are well worth the time and effort to gain a more attractive and healthier smile. Ironically, though, the risk for disease increases while wearing braces because they obstruct a wearer's ability to clear away dental plaque, a thin bacterial film most responsible for dental disease.
Because of these difficulties, braces wearers are highly susceptible to gum disease. When the gums become infected, the body triggers an inflammatory response to fight the infection. This results in gums that are red or swollen, or that bleed easily.
The braces themselves can also cause gum problems. The gums may react to the presence of the brackets and wires by overproducing tissue. This overgrowth in turn can interfere with oral hygiene, thus further increasing the risk for infection.
As with gum disease generally, consistent oral hygiene is the best way to prevent an infection while wearing braces. It's difficult, but not impossible! With the help of a few specialized tools like interproximal toothbrushes with narrower heads to get in and around the braces, or water flossers spraying pressurized water between teeth, even braces wearers can do an effective job.
And don't forget about your family dentist. You can still benefit from regular teeth cleanings while wearing braces, even increasing your visit frequency if your dentist recommends it. Your dentist can also prescribe antimicrobial rinses and other products to help reduce bacterial plaque.
Keeping your teeth and gums clean may help with tissue overgrowth, but you may still have issues with the condition for the duration of your orthodontic treatment. As long as the gum tissues remain firmly attached to the teeth, there's little need for concern. But if the condition begins to affect periodontal attachment, you may need the braces removed to allow the gums a chance to heal.
Keeping up daily oral hygiene and regular dental visits are good ideas for everyone, but especially if you're an orthodontic patient. Neither should you hesitate in calling your dentist at the first signs of gum trouble—the sooner you have any issues examined, the less chance you'll experience major gum problems while wearing braces.
If you would like more information on dental care during orthodontics, please contact us or schedule an appointment for a consultation. You can also learn more about this topic by reading the Dear Doctor magazine article "Gum Swelling During Orthodontics."