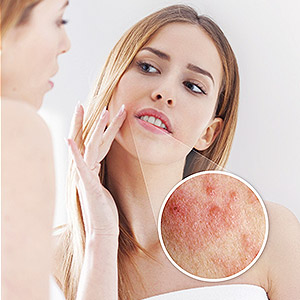 We all value clear skin as a sign of health and vitality—and attractive facial skin certainly enhances a beautiful smile. So, when a rash or other skin outbreak mars our facial appearance, we may turn to an array of remedies to clear it up. But one type of facial rash doesn't respond well to these common ointments or creams. In fact, the standard approach may just make the condition worse.
The rash in question is peri-oral dermatitis. Literally "rash around the skin of the mouth," it has a red appearance as it erupts on the skin near or around the lips. The rash can happen to anyone of any age, but mainly in women 20-45. Although we're not fully sure of its underlying causes, peri-oral dermatitis may be related to the types of cosmetics and skin care we use. Incidences of it are higher in industrialized cultures with a heavy use of cosmetics.
Researchers also suspect a link between the rash and the prolonged use of steroids, an anti-inflammatory substance found in many skin treatment products. The steroid can cause the blood vessels in the skin to constrict and temporarily improve the skin's appearance. In just a few minutes, though, the rash may look worse than ever.
The takeaway here is to limit your use of topical steroids for skin ailments, especially if you're diagnosed with peri-oral dermatitis. In that case, you should stop using any topical steroid products, even non-prescription hydrocortisone and only wash your face with a mild soap. The rash may initially appear to flare even worse, but be patient, as it should begin to clear over time.
In extreme cases, your dentist can also prescribe antibiotics to help boost healing, usually something mild like doxycycline, minocycline, or tetracycline. Normally taken orally or sometimes applied topically, this antibiotic treatment can take several weeks before your skin shows any marked improvement.
So, if you've encountered a pesky facial rash that won't seem to go away, talk with your dentist. With their help, you may be able to find the right approach to relieve you of this irritating and unattractive condition.
If you would like more information on facial rashes, please contact us or schedule an appointment for a consultation. You can also learn more about this topic by reading the Dear Doctor magazine article "Rash Around the Mouth: Peri-Oral Dermatitis."